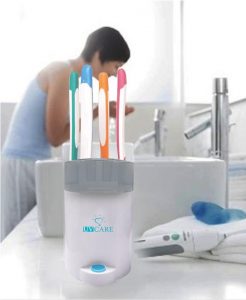 If you have a sink inside your bathroom, chances are it is teeming with germs. All surfaces do, actually. So if you put down your toothbrush on any surface, germs will transfer to it. It's not that scary, until you realize which part of your body you are using your toothbrush.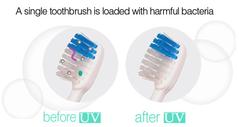 Before storing your toothbrush, be sure that it is rid of all germs. Use the UV Care Family Toothbrush Sterilizer to remove all chances of bacteria getting inside your mouth.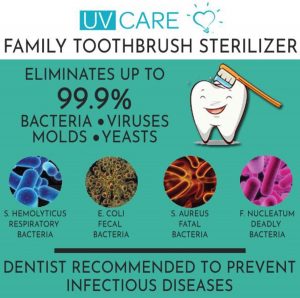 Sanitizing your toothbrush has never been easier! Amazonia Family brings you the UV Care Family Toothbrush Sterilizer. This UV-C Toothbrush Sanitizer automatically sanitizes up to 4 toothbrushes simultaneously in no longer than 7 minutes.  The germicidal Ultraviolet light will help significantly reduce up to 99.9% of the germs it comes in contact with on your toothbrush. Separate drip cup slots prevents cross-contamination from one toothbrush to another. Independent tests confirm that the UV-C Family Toothbrush Sanitizer helps reduce up to 99.9% of the germs and bacteria.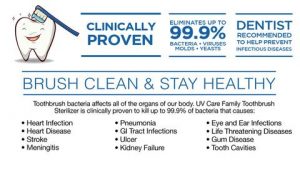 Product Description:
Uses germicidal UV-C light technology which effectively kills up to 99.9% of invisible bacteria and viruses (including S. Hemolyticus bacteria, E. Coli Fecal Bacteria, S. Aureus Fatal Bacteria, and F. Nucleatum Deadly Bacteria)

Lab-tested, chemical free, and doctor-recommended

Can simultaneously sterilize up to 4 toothbrushes at a time in under 7 minutes

Includes pegs for smaller toothbrush heads

Can also be used for electric toothbrush heads

With drip tray for excess water

Dimensions: 13.5 cm X 8.5 cm

Diameter: 9 cm

4 Watt UV-C Light

Weight: 0.5 kg

Power Source: 3xAA Batteries or Adapter (220 V)

With 1 year Local Supplier Warranty
Package Inclusions:
1x Adapter (220V)

1x User Manual

1x Warranty Card

1x Sterilizer Unit
How to Use:
Insert (3) AA batteries into the compartment on the bottom of your UV Care Family Toothbrush Sterilizer

To open, hold the base in one hand. With your other hand, gently rotate the frosted cap clockwise to release the safety lock

Remove the cap

Lift the removable drip cup straight up and out of the base, and rinse with warm water before first use

Re-insert the drip cup to its original position, firmly seated in the base

If you will be using electric toothbrush heads, use the pegs (2 pegs included). Simply insert the pegs into the drip cup slots that will be utilized for the electric toothbrush heads

Replace the frosted cap onto the top of the base unit. Line up the cap's safety guides with the slots on the top of the base and gently turn the cap counterclockwise until you hear a secure click

The UV Care Family Toothbrush Sterilizer will be ready for sanitizing