Amazonia Family brings you this handy and classy air purifier that you can wear. Stay Fresh Canada Breathe Clean portable air purifier offers you clean air and emits healthy anions anytime and anywhere you go. It is also a low maintenance product which means no need to change filters all the time!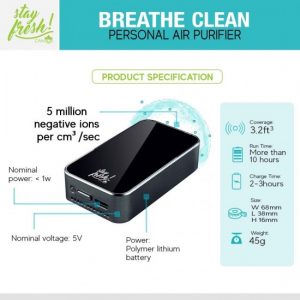 Stay Fresh Canada Breathe Clean is the first revolutionary portable purifier that delivers fresh air anytime anywhere. It is a personal rechargeable air purifier that continuously emits 5 million healthy Anions per cm3 / second and takeaway airborne pollutants.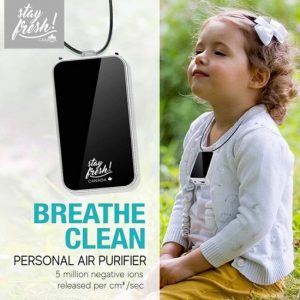 Stay Fresh Canada Breathe Clean air purification creates a 3-feet zone of cleaner and healthier air around your personal space.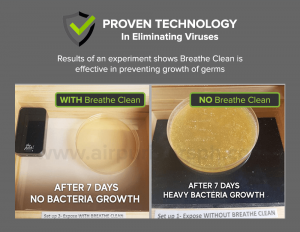 Stay Fresh Canada Breathe Clean can be charged easily through a USB cable (included inside the box). It is lightweight, portable (lanyard included) and easy to use. You can wear it to create a cleaner zone of healthier air while traveling in public places with poor air quality.
Stay Fresh Canada Breathe Clean gives you negative ions also known as Anions. These anions have been proven to be very beneficial to one's health. The degree to which negative ions contribute to overall well-being and health is scientifically proven  by keeping our body alkaline, reducing inflammation, reviving all functions:
They neutralize free radicals, have anti-bacterial, anti-viral effects
They revitalize metabolism
They enhance immune function.
They purify the blood, improve blood circulation, decrease blood sugar, cholesterol, increase calcium
Anti-Allergic, Asthma effects,
They balance the autonomic nervous system, regulate the heart rate, digestion, respiratory rate, pupillary response, urination, and sexual function
Increasing Brain Serotonin, reducing anxiety, stress, fatigue, depression, migraine, better sleep, relaxation
Natural painkiller, anti-inflammatory effect
Improve skin conditions, against hair loss
Longevity, Anti-Aging, Rejuvenation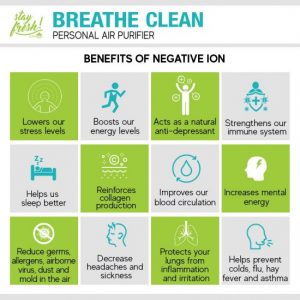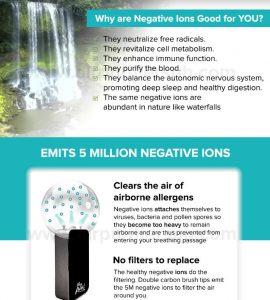 Product Information:
It quietly runs for 10 to 12 hours on full charge.
2 to 3 hours for full charge
The unit includes USB Cable and lanyard so you can easily wear it anytime and anywhere.
Weight: 45 grams
Product dimensions: 68 mm x 38 mm x 16 mm
Negative Ions: 5 Million/ cm3
Run Time: More than 10 hours
Charge Time: 2 to 3 Hours
Power type: Polymer lithium battery