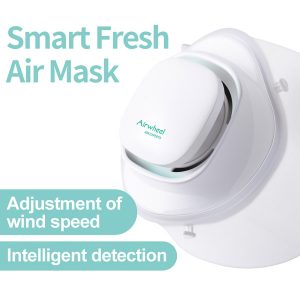 Amazonia Family offers this Airwheel Air Experts F3 Smart Respirator Mask. This Smart Mask features a unique ventilation design with a built in, motor drive wheel cavity, to suck air and breathe gas with excellent permeability that can realize a two-stall adjustment that actively delivers fresh air. Its aerodynamic system is designed to avoid secondary intake of exhaust gas with slightly low positive pressure. |It has a free switching of in/out air with slightly negative pressure. The Airwheel Smart mask has built-in sensors which detect dynamic and static conditions and automatically adjust wind speed for more comfortable breathing.
The Airwheel Air Experts Smart Respirator is safe, hygienic and convenient. It has an ergonomic design, 360-degree fit on the face. Made from food grade soft silicone suitable for long, comfortable wear time. Its silicone face shield, straps and the front and rear shell can be washed and boiled for 5 minutes to kill 99.9% of bacteria. It boasts its 5-layer filtration technology which contains 5 high-efficiency layers that effectively block PM2.5 bacteria, viruses and other harmful substances. Unlike any other, it has an app smart reminder which allows real-time monitoring of the filter element. The APP reminds the user to replace the filter in time based on usage environment.
Airwheel F3 complies with the CE medical standard and obtains the certificate of medical smart Respirator face mask.
Item Features:
 Double filtering in and out – Aerodynamic system to avoid secondary intake of exhaust gas, slightly low positive pressure. Free switching for inlet air / air out with slightly negative pressure.
Boiling sterilization – Silicon / front and back cover for easy removal, antibacterial material. Can be washed and boiled for 5 minutes to kill 99.9% of bacteria.
Adjustment of wind speed – Professional sensors detect dynamic and static conditions. Automatically adjust wind speed for more comfortable breathing.
APP interconnection – According to the use time and the use environmental, real-time monitoring of the use of the filter element, the APP intelligently reminds the user to replace the filter element in time.
Food-grade materials – Ergonomic design, 360 degree fit on the face. Food grade silicone hardness, suitable for long wearing.
3-step filter replacement
Package Includes:
1 – Smart Mask
2 – Mask Bands
1 – Charging Cable
1 – Tweezer
1 – Filter (5 pcs)
1 – Qualification Certificate
1 – Instruction Manual