Wouldn't it be nice to think that you can go anywhere freely without having to worry about germs?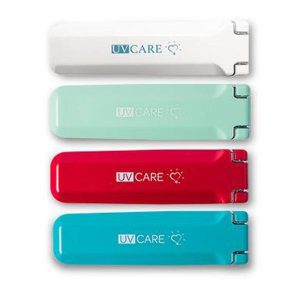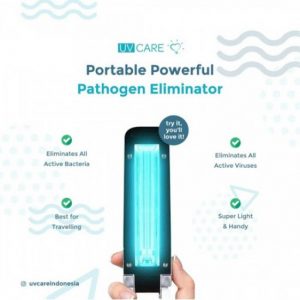 The UV Care Pocket Sterilizer is the perfect solution to all your germ woes. It fits right inside your jean pocket, and you can take the UV Care protection everywhere you go.
Travel all you want and still be germ-free with UV Care! It comes in four beautiful colors that will fit any style at any occasion. 
Amazonia Family brings you the very handy and portable UV Care Pocket Sterilizer.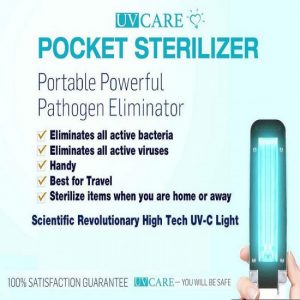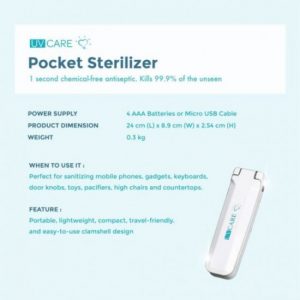 Product Description
Sterilize in style with this limited edition Pocket Sterilizer design!
Eliminates up to 99.9% of harmful germs, bacteria, viruses, allergens and molds using UV-C light technology
Lab-tested, chemical free, and doctor-recommended
Perfect for sanitizing mobile phones, gadgets, keyboards, door knobs, toys, pacifiers, high chairs and countertops
Portable, lightweight, and easy-to-use clamshell design
To use, simply flip open the unit and press the "ON" button for five seconds. Shine light within 1/4 inch of the surface to disinfect for a few seconds. Move the light slowly so it illuminates the area for 2-3 seconds before moving the lamp to the next section to achieve up to 99.9% disinfection.
Safety switch feature turns the UV-C light off when turned upward
Powered by four AAA batteries or Mini USB Cable
Product Dimensions: 24 cm (L) x 8.9 cm (W) x 2.54 cm (H)
Weight: 0.3 kg
Comes with 1 year Local Supplier Warranty
Package Inclusions
1x Micro USB Cable
1x User Manual
1x Warranty Card