HOW to FIND a GOOD CAR POWER INVERTER for OUR TRAVEL CHARGER COMPANION?
Utility Cord & Cigarette Lighter:

 Placed random, about 10 inches length cable with cigarette lighter plug since we can reach it to power a laptop in the rear seats.

Car Travel Charger Companion:

 The ultimate car travel charger for road trips, vacations, outdoors, emergency kits and more; Few products come close for sheer on-the-go versatility. Easy to use, simply plug the 300W inverter straight into the vehicle's cigarette lighter. Enjoy 4 USB ports (6.2A) and 2 standard plug outlets (e.g. for laptops) for convenient charging on the road.

Ultimate Versatility:

 It can be used for camping, outdoors, vacations, road trips, remote job sites, and even charging household items. Dual USB ports effortlessly charge two devices (including any smart phones and tablets) at once while the outlets can power a wide range of power-hungry items on the road. For maximum utility, stay in charge at all times and add this to your travel emergency kit.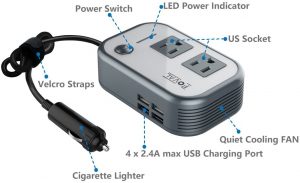 Foval 200W Car Power Inverter DC 12V to 110V AC Converter with 4 USB Ports Charger
Silent Fan:
Smart cooling fan makes the car power inverter silent when operating, and it runs faster when it gets warmer.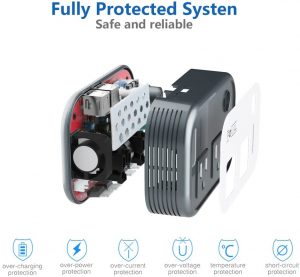 Safety:
Full-protection with short-circuit , low-voltage , over-charge,over-voltage, over-load,over-temperature protection,built-in fuse.
LED Indicator:
Green-operation, red-fail.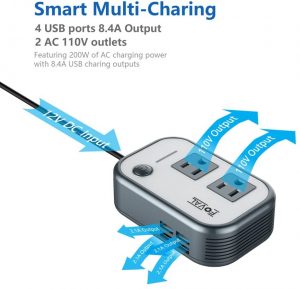 Car Power Inverter Specifications:
Color: Grey
Total Power: 200W
Input: DC 12V/40A
AC Output: 240V
USB Output1-2: DC 5V/6.2A
Size: 3.2 x 2.5 x 1.5 inches
Weight: 20.2 oz (573g)